Grow Local with BidVertiser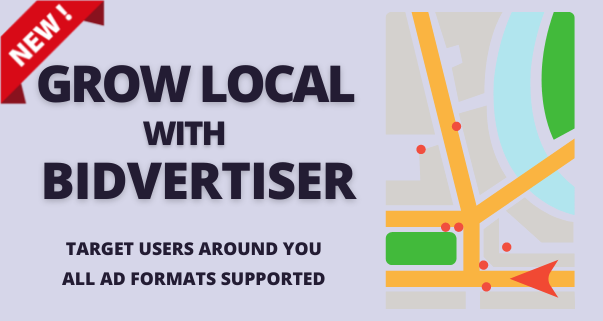 We have some great news that we would like to share with you – Local Advertising is now fully supported by all of our ad formats! Now you can target LOCAL CUSTOMERS down the level of a local neighborhood.
Local Advertising is the best way to gain customers in the surrounding area who may see your business as a better option!
What can I do with local advertising? Good question – with even better answers! Here are some ideas to only scratch the surface:
Send Push messages to users exactly when they reach your PROXIMITY
Have your landing pages opened in front of users browsing the web in YOUR NEIGHBORHOOD
Target mobile customers that are RIGHT NEXT TO YOU – AND READY TO BUY
Get your locals to KNOW YOU – and grow your local business
Create quick and effective AWARENESS to LOCAL EVENTS
Run SUPER-TARGETED dating campaigns
Test LOCALLY before scaling nation-wide
How do I setup Local Advertising in my campaign?
That's easy. Open the Geo Targeting option (yes, the same one that you use to choose country, region and city) – and look for the Go Local option closer to the bottom. There you have the option to set your business's Zip Code (or any other) as the target point – and choose the Radius around it (in ether Meters or Miles). Now click "Add" and you are done!
In the example below we target the famous Downing 10 as the target point – and 50 Meters around it.
Try now your first Local Advertising campaign with BidVertiser! As always, if you have any question or concern – simply contact our team over Skype or email.